Bill Terry remembers what his late father always told him: "There's two ways to do it, the right way and the wrong way. You can do it the right way and know you've done it the best you can. Or you can do it the wrong way, and maybe you'll make some money, but you have to live with yourself knowing that."
Bill has carried this lesson with him his entire life, from growing up in a home without running water to establishing his building business, Oceanside Building.
With over 45 years of experience in the building industry, Bill started working as a laborer at 15 years old. By the time he was 19, he was running his own construction site. He later went to work for another local builder, working his way up from overseeing projects to becoming a vice president of construction. This is where Bill learned how to draw plans and developed the confidence to start his own business in 1994.
"I don't care if it's a million-dollar house or a two-hundred-thousand-dollar house, we approach it the same way. Just like the million-dollar buyer, each customer trusts us to build their dream home within their budget. We do it right, every time."
In fact, Bill still walks every house he builds and with an attention to detail that can only be learned and not taught, he makes sure his homes are perfect down to every last detail.
Bill Terry has lived in the same zip code, 23456, his entire life and has always called Virginia Beach and the greater Southside area home. He knows the Hampton Roads area almost better than the back of his own hand - understanding the intricacies of the land, where to build, and the people and process needed to make it happen.
Bill is passionate about helping others live and grow their families here, just as he did, and his own children do today. The reputation and integrity of Oceanside Building is everything to the Terry family. Oceanside homes are designed to withstand the elements homeowners encounter in Hampton Roads and no one understands this better than a lifelong resident.
Growing up, Bill's daughter Laura (now Laura Zito) witnessed firsthand the excitement and joy on a family's face as they moved into a home her father built. This feeling of pride for her father and the contagious joy she witnessed from each buyer has always driven her. Combined with an innate entrepreneurial spirit, Laura knew she wanted to work with her dad and build homes ever since she was a little girl.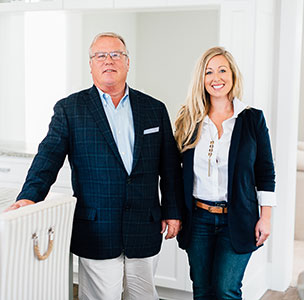 After graduating college Laura asked her Dad if she could come work for him and to her surprise he said "no." It was really a "not yet."
"Dad knew I needed to go out and get real estate experience for myself first before I could help him grow the business," said Laura. "I have worked in and sold real estate in two different markets.. This experience helped me learn firsthand how people live and understand what buyers are looking for in a new home."
Now teaming up together, this father-daughter duo is focused on designing beautiful homes in Hampton Roads. The warm and friendly mother of two young boys, Laura is definitely seen as the creative spirit at Oceanside Building, bringing a fresh perspective to complement her father's lifelong expertise and experience.
"At the end of the day we believe in taking care of our homeowners. We stand behind what we build on the day we hand over the keys and beyond," said Bill. "We built this company on strong family values and that's what Oceanside Building will always be about."
At Oceanside Building, our family is ready to help your family build the home you've always dreamed of. Call us today at 757-631-5800. We'd love to have you gather around our table and talk about your family's dreams for the future.