About the Builder
About the Builder
Oceanside Building, LLC doesn't just build houses, they build personal relationships with every buyer. Building a new home is a big decision, and so is choosing the right builder. That is why we are committed to offering exceptional service throughout the building process.
When someone decides to purchase an Oceanside Building home, the next step is to select the perfect floor plan to fit their lifestyle. During this process, buyers will have the chance to meet directly with the builder. This allows us to get to the root of what's really important to you, so that you get exactly what you want in your new home.
When your new home is complete, Bill Terry, principle of Oceanside Building, will personally walk through with you to point out the unique features of your new home. Long after you have received the keys and moved in all of your furniture, Oceanside Building will go above and beyond to make sure that your home buying experience is as smooth and enjoyable as possible. Add to that our first-class, new home builder warranty and you will be able to enjoy your new home without worrying about additional expenses after closing.
This level of customization and service can only come with over twenty years of experience and a serious dedication to quality and customer service.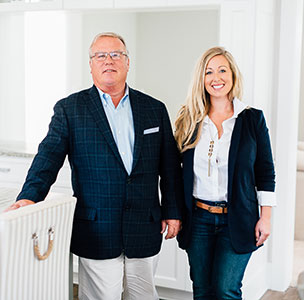 Since opening, Oceanside Building has developed nearly twenty communities throughout Hampton Roads. From Yorktown to Virginia beach, homeowners across the area can attest to our commitment to excellence. We hope that you will allow us to show you the same.
When you buy a home built by Oceanside Building, you can be sure that you're getting an outstanding value, with quality features and a well thought out design, from the first drawing to the very last nail.
Oceanside Building looks forward to working with you as you navigate every step...from selecting a lot, to deciding on a plan, to walking with you through the front door of your new dream home.